Iako ih ima puno, na njihovu odjeću nikad ne upisuje imena da bi je razlikovala, već se vodi razlikovanjem po bojama što njoj i djeci znatno olakšava posao. Pogledajte i druge trikove kojima se uspješno služi.
Na dane kad vam se čini da ništa drugo ne radite već cijelo vrijeme samo perete, sušite i slažete rublje, pronađite inspiraciju u Tiffany Nelson.
Iako kažu kako ih sve vole jednako, sedmero djece je biološki njihovo, a devetero ih je usvojeno te je bračni par oduvijek želio imati veliku obitelj.
Sa toliko djece o kojoj se brinu, Tiffany je otkrila kako uspijeva održati red u pranju rublja te je pokazala koliko ga se nagomila nakon samo jednog dana, piše The Sun.
U videu kojeg je objavila na Youtube kanalu, uz pomoć svoje 14-godišnje kćeri Lilee pokazala je taktike koje joj to olakšavaju.
Inače, u njihovoj obitelji stvari funkcioniraju tako da svako dijete dobiva jedan kućanski zadatak za koji je zadužen godinu dana, a Tiffany kaže da im to pomaže da postanu 'profesionalci' i ne mora stalno učiti različitu djecu kako da odrade pojedini posao.
– Ako moja djeca svaki dan nose jednu do dvije odjevne kombinacije te ih zaprljaju, pa dodajte na to pidžame i ručnike, onda možete zamisliti koliko rublja imamo svakog dana – objasnila je.
Zbog ogromne količine odjeće, ako ne opere rublje tjedan dana, kaže da bi zavladao takav kaos u kojem se više ne bi mogla snaći.
Tiffany objašnjava kako je najvažnija stvar u njenom pristupu pranju rublja kodiranje po boji, kako ga naziva. Tako odjeću razvrstava u 4 grupe – tamne boje, ručnici, crvene i ružičaste i potom bijele.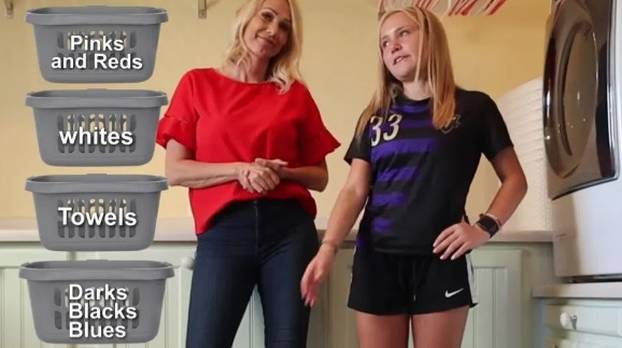 Obično svaki dan peru jednu punu mašinu odjeće crvene i ružičaste boje, a svaki put kad se jedna hrpa napuni do vrha – ide na pranje.
To je proces koji nema kraja, a obitelji posao olakšava posebna prostorija za pranje, sušenje i vješanje odjeće.